At least 217 deaths are regrettable after the strong earthquake that shook the eastern province Sunday Turkish Van near the Iranian border.
The earthquake, of magnitude 7.2 according to the American Institute of Geophysics USGS, 1090 was also injured, according to a new report presented Monday by the Turkish Minister of Interior Idris Naim Sahin. Turkish seismological center said he feared 500 to 1000 deaths.
Van and Ercis affected. One hundred people died in the province of Van, near Iran, and dozens were hospitalized. The airport of the city was damaged and flights were diverted to Erzurum, about 400 km further north. In the district of Ercis, a town of 70,000 inhabitants, 117 people died and over a thousand people were injured.
An AFP photographer saw locally massive damage on the main street. Many residents left the city without electricity, forming a convoy on the highway. Fear of aftershocks, those who remained spent the night outside. Rescue operations continued all night in the light of the generators while the temperature should not exceed 3 degrees Celsius throughout the earthquake zone.
Havoc feared. The Red Crescent has mobilized and started to send tents and emergency workers in the disaster area. "It's a powerful earthquake can wreak havoc," said the chairman of the charity. The army must help rescue. Many homes were built in Turkey without the standards are fully met.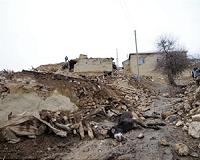 International aid is organized. Turkish Prime Minister Recep Tayyip Erdogan, in Istanbul during the earthquake, was in Van with several ministers. France as well as several countries including Israel have offered to help, despite strong diplomatic tensions between the two countries.
President Barack Obama announced that "the United States stand ready to help Ankara." NATO has also offered to help. The European Union expressed its condolences to Turkey.
WATCH THE VIDEO OF TURKEY EARTHQUAKE 2011 HERE