The deadliest shooting took place 20 years ago at a South Bay tech company. -- 43 percent of workplace homicides involve current employees
Police officers search for Shareef Allman in Sunnyvale, Calif., on Wednesday. Allman is accused of a deadly shooting at a quarry near Cupertino.
A truck driver for a quarry near Cupertino went on a shooting rampage early Wednesday, killing three people and wounding seven others, then leading police on a manhunt across normally placid Silicon Valley, authorities said.
Shareef Allman, 47, of San Jose remained at large late Wednesday. The search was concentrated on the border between Cupertino and Sunnyvale, where Allman was last seen. Police said they had found four weapons but believed Allman remained armed and dangerous.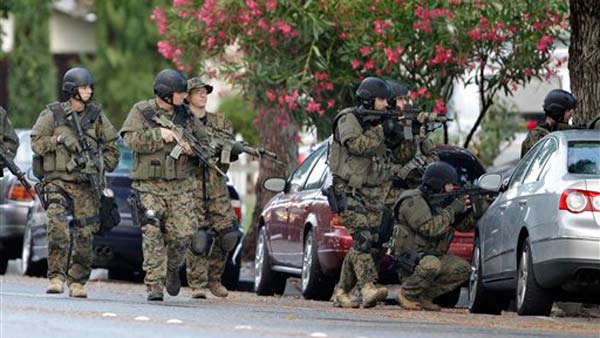 Santa Clara County Sheriff Laurie Smith said Allman showed up for a scheduled 4:15 a.m. safety meeting attended by about 15 people at the Lehigh Permanente Plant, in the hills above Cupertino. Smith described Allman as a disgruntled worker but did not disclose details of what preceded the shooting.
San Jose residents John Vallejos, 51, and Mark Munoz, 59, died at the quarry. Sheriff's patrol cars blocked the street leading to the plant. Police cordoned off Allman's San Jose apartment.
Relatives of quarry workers rushed to the scene. About that time, officials discovered Allman's brown Mercury Cougar at a gas station in Cupertino. Allman was known as "a real nice guy," was liked by other plant workers and seemed content, said Charles Bryan, another truck driver at the plant.
But Bryan said Allman was acting strangely Tuesday. Bernice Beckum, a neighbor in Allman's San Jose apartment complex, described him as "a big teddy bear."
Neighbor Pat Fleming, 50, said Allman helped residents in the complex work on their cars. In a statement, CreaTV San Jose station manager Suzanne St. John-Crane said Allman was one of 130 community producers at the station, not an employee. The plant is owned by German conglomerate Heidelberg Cement.
"I've worked out there, my cousins worked out there, my friends worked out there."
Jeremi Silva said his father, Al Silva, was shocked when he called plant operations Wednesday morning and learned the suspect was Allman. By the time darkness fell, three people were dead, seven more had been treated for gunshot wounds at hospitals and the shooting suspect, Shareef Allman, remained at large.
One of the survivors of the shooting told the Mercury News that Allman was under pressure at work after repeated accusations of driving recklessly at the quarry.
The shooting spree set in motion a daylong manhunt along the Homestead Road corridor separating Cupertino and Sunnyvale. With search dogs winding through creeks and around schools, the manhunt continued into the night.
Smith issued a plea for Allman to peacefully surrender. Authorities identified the dead as Mark Muñoz, 59, of San Jose, John Vallejos, 51, of San Jose, and Manuel Guadalupe Piñon, 48, of Newman, all employees of Lehigh.
"He pulled out a Glock and just shot everybody and kept on shooting," said Mike Ambrosio, 45, a union shop steward who was shot in the arm.
According to police, Allman attempted to commandeer the car of a woman in the parking lot of a Hewlett-Packard campus on Homestead Road, shooting her in the arm, but he failed to get the car.
By Wednesday afternoon, police had recovered a shotgun, handgun and two assault rifles, some from Allman's abandoned car. But Smith presumed that Allman was still armed.
Neighbor Albert Salazar, 51, said he had known Allman a long time. Wayne Riley went to high school with Allman's daughter. In a videotaped interview, Allman talked about a book he wrote to empower women against domestic violence.
Outside the cement plant, relatives of workers gathered at police lines, hoping to find out if their loved ones survived the shooting.
Source :
http://www.mercurynews.com/top-stories/ci_19051702
http://www.latimes.com/news/local/la-me-1006-cupertino-shooting-20111006,0,5782121.story
http://abclocal.go.com/kgo/story?section=news/local/south_bay&id=8380587