Transformers star Shia LaBeouf got into a bar brawl in Vancouver last week.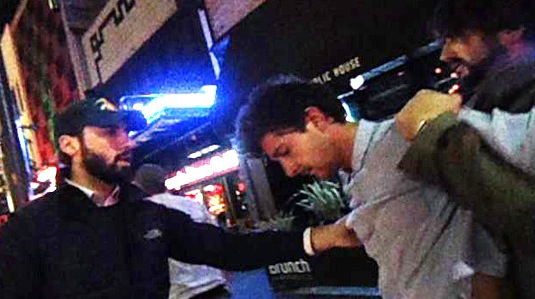 Shia LaBeouf's night out with the boys turned into what appeared to be a good old-fashioned bar brawl. The Transformers star is in Vancouver to film his new movie, The Company You Keep, and likes to frequent the bar Cinema Public House to unwind with friends.
LaBeouf's friends then rush over to hold him back from chasing after the guy. LaBeouf, 25, was spotted on Sunday riding his bike around Vancouver without any apparent injuries.
It will be interesting to see if LaBeouf returns to his favorite Vancouver watering hole after this bar brawl. Shia Labeouf Takes Bike Ride After Vancouver Beating
'The Company You Keep' sees LaBeouf star as a young journalist who discovers the true identity of a former Weather Underground militant, played by Robert Redford.
Source :
http://www.contactmusic.com/news/shia-labeouf-takes-bike-ride-after-vancouver-beating_1251731
http://www.sheknows.com/entertainment/articles/844695/shia-labeouf-beaten-outside-of-vancouver-bar