Two-year-old Yue Yue, who was left bleeding on the road after a hit-and-run accident Thursday, is now showing signs of stability, China Daily reported Tuesday. Two-year-old Yue Yue in intensive care. Chen Xianmei, the trash collecter who helped Yue Yue, has been given a reward of 10,000 yuan ($1,570) by government officials for her good deed.
China Daily confidently reported the details of Yue Yue's recovery Tuesday:
Yue Yue has regained the ability to take weak breaths with the help of respirator. China Daily is a state-run paper sometimes referred to as the government's mouthpiece.
China Daily also reported that both drivers who hit Yue Yue have now been identified, and say they are sorry for the incident and didn't see the child in the road.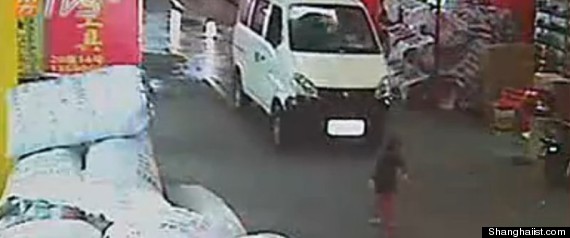 China Daily doesn't leave out the apathetic passersby out of the story.
Since the video was released yesterday, many have blamed the response by passersby on the common fear in China that citizens who help an injured person will be blamed for the injuries.
Watch the original video of the hit-and-run below. Here's an in-depth report by Peter Ford on the moral debate in China.
Source :
http://www.csmonitor.com/World/Global-News/2011/1018/China-toddler-run-over-twice.-Why-did-no-one-stop-to-help
http://www.washingtonpost.com/blogs/blogpost/post/yue-yue-chinese-toddler-run-over-in-hit-and-run-believed-to-be-stable/2011/10/18/gIQAb83kuL_blog.html