A town in Ohio is on lockdown as dozens of exotic animals — including lions, bears, wolves and cheetahs — ran free from their unlocked cages at a wild preserve. So far, authorities have managed to shoot and kill roughly 35 of the 48 freed animals. Authorities now say they have "accounted for" 43-44 of the loose animals.
The owner of the exotic animal preserve, Terry Thompson, was found dead near his home around dinnertime Tuesday. Sheriff Lutz at a Wednesday briefing said it appears as if Thompson shot himself and let his animals loose.
Thompson also was convicted in Muskingum County Municipal Court in 2005 of cruelty to animals, having an animal at large and two counts of rendering animal waste without a license. The preserve had lions, tigers, cheetahs, wolves, giraffes, camels and bears. Police said bears and wolves were among the escaped animals that were killed and there were multiple sightings of exotic animals along a nearby highway.
Lutz called the animals "mature, very big, aggressive" but said a caretaker told authorities the animals had been fed on Monday.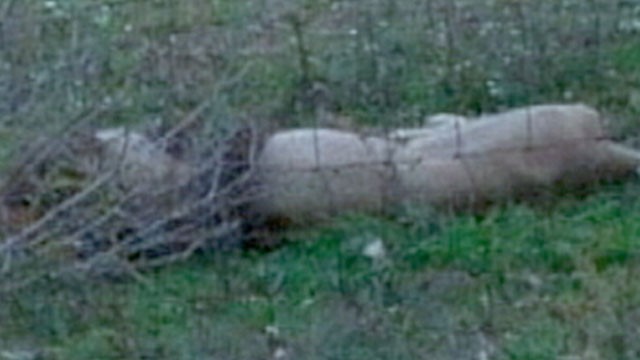 In 2010, Mazzola's preserve had an animal caretaker killed by a bear.
Terry Thompson of Zanesville, Ohio, was found dead of unknown causes inside the preserve while the animals cages were found unsecured. Lutz said that several aggressive animals were shot by deputies when they were discovered near Thompson's body at his preserve. Thompson's preserve was surrounded by a fence, and not all animals on the property fled through the open gates.
"These are wild animals, wild animals that you would see on TV in Africa," Lutz said at a news conference Tuesday evening.
We have to take care of our animal life. You cannot tranquilize an animal at night.
Source :
http://abcnews.go.com/US/animals-loose-ohio-town-lockdown/story?id=14767017
http://hypervocal.com/news/2011/wild-animals-loose-in-ohio-right-now-were-shooting-to-kill/