Amazon.com unveiled its
Kindle Fire
tablet computer Wednesday, taking aim at Apple's bestselling iPad with a device that's smaller and less than half the price.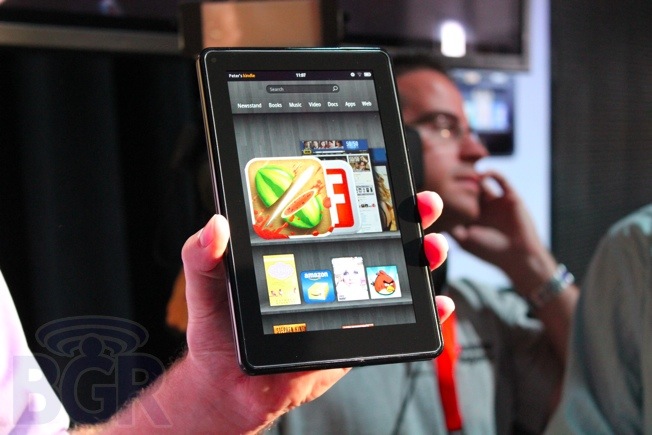 The Kindle Fire will sell for only $199, compared with $499 for the least expensive iPad. The device, a souped-up version of the Kindle electronic-book reader, will run on Google's Android software, the Seattle company said. Amazon also introduced a touch-screen version of its e-reader, to be called Kindle Touch.
Unlike a wave of other tablets, such as the HP TouchPad, the Motorola Xoom and the RIM PlayBook, that emerged only to flop, analysts say the Kindle Fire has a good shot at turning the newest high-tech theater of war into a two-tablet battle.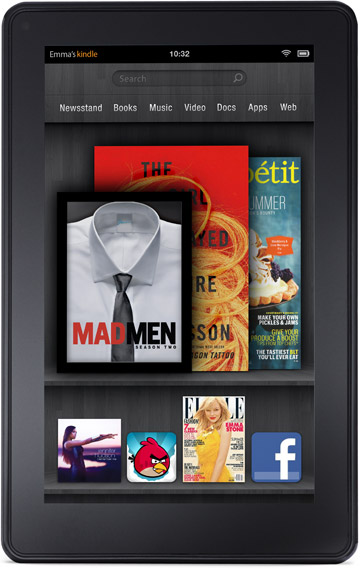 With a 7-inch display, the Fire is about half the size of the iPad. Amazon has painted over the rough surfaces of Google's Android operating system with a fresh and easy-to-use interface and tied the device closely to its own large and growing content library.
"What we are doing is offering premium products at non-premium prices," Amazon CEO Jeff Bezos said in an interview prior to Wednesday's announcement. Other tablet contenders "have not been competitive on price" and "have just sold a piece of hardware. We don't think of the Kindle Fire as a tablet. We think of it as a service."
Only real competitor
Bezos is betting he can harness Amazon's dominance in e-commerce to pose a real challenge to Apple. Sales of Amazon's electronic books, movies and music on the device may help make up for the narrower profit margins that are likely to result from the low price, said Brian Blair, an analyst at Wedge Partners in New York.
"Amazon is really the only other guy, the only other potential tablet player, that has a similar offering to what Apple has," Blair said. "If you look across their product offerings, they have content that none of the other tablet makers currently have because they have content on the media side."
Nonetheless, analysts say there are some limitations to the Kindle Fire. Unlike the iPad 2, it doesn't have embedded cameras or a microphone, and - unlike the costlier iPads - there's no 3G cellular connection, only Wi-Fi. Its diminutive size, which makes it so handy for stashing in a coat pocket, also makes it unlikely to satisfy more than one antsy kid on a long car ride. The versatile iPad 2, with video chatting capabilities and exquisite screen resolution, is more artfully designed.
How fast will it sell?
While the new Kindle will add to Amazon's sales, estimated by analysts to rise 32 percent to $64.6 billion in 2012, there may be disappointment if the company doesn't bring in revenue quickly, Steve Weinstein, an analyst at Pacific Crest Securities in Portland, Ore., said in a note this week.
Consumer reaction to the device will play a critical role in the company's growth, he said. "Without success in tablets, investor growth expectations for 2012 could prove too aggressive," Weinstein said.
The Kindle Fire, which will be available in November, comes with a 30-day free trial of Amazon Prime, the $79-a-year membership service that includes streaming video and free two-day shipping. A Web browser called Amazon Silk will use cloud computing to speed access to content over the Internet. The tablet will be available on Amazon's website and at retailers that already sell the Kindle.
Huge opportunity
Tablets represent a huge opportunity for Amazon, not only to sell a new kind of device but also to entice people to buy more stuff. Even with only 28.7 million iPads sold, e-commerce sites say they see an increasing amount of traffic coming from tablets. Forrester Research reported this summer that online purchases made on tablets now account for 20 percent of all mobile e-commerce sales and that nearly 60 percent of tablet owners have used them to shop.
For those already competing with Amazon, the Kindle Fire will not be good news.
Source :
http://www.sfgate.com/cgi-bin/article.cgi?f=/c/a/2011/09/29/MNNE1LAQUH.DTL