A large inflatable pig flew above London's Battersea Power Station on Monday in a stunt designed to mark the reissue of British band Pink Floyd's 14 studio albums by record label EMI Music.
The animal, measuring 30 feet long and 15 feet high, was inflated with helium at dawn for the event, held 35 years after the making of the album cover for Animals featuring a similar flying pig.
The cover of Pink Floyd's Animals
Under the banner "Why Pink Floyd … ?," EMI Music is releasing all 14 Pink Floyd studio albums remastered and available digitally. Also on sale from Monday are special editions of one of the band's most acclaimed albums, The Dark Side of The Moon, extended to feature unreleased music from Pink Floyd archives.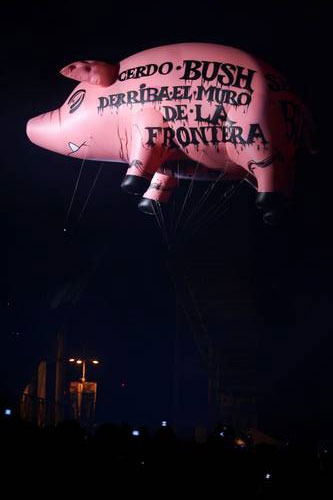 Pink Floyd's iconic pink pig has flown over Battersea Power station in London today (26.09.11).
Today EMI Music have released all 14 Pink Floyd studio albums remastered as brand new Discovery Editions on CD and are available digitally. 'The Wall' Immersion and Experience editions will be released on 27 February 2012.